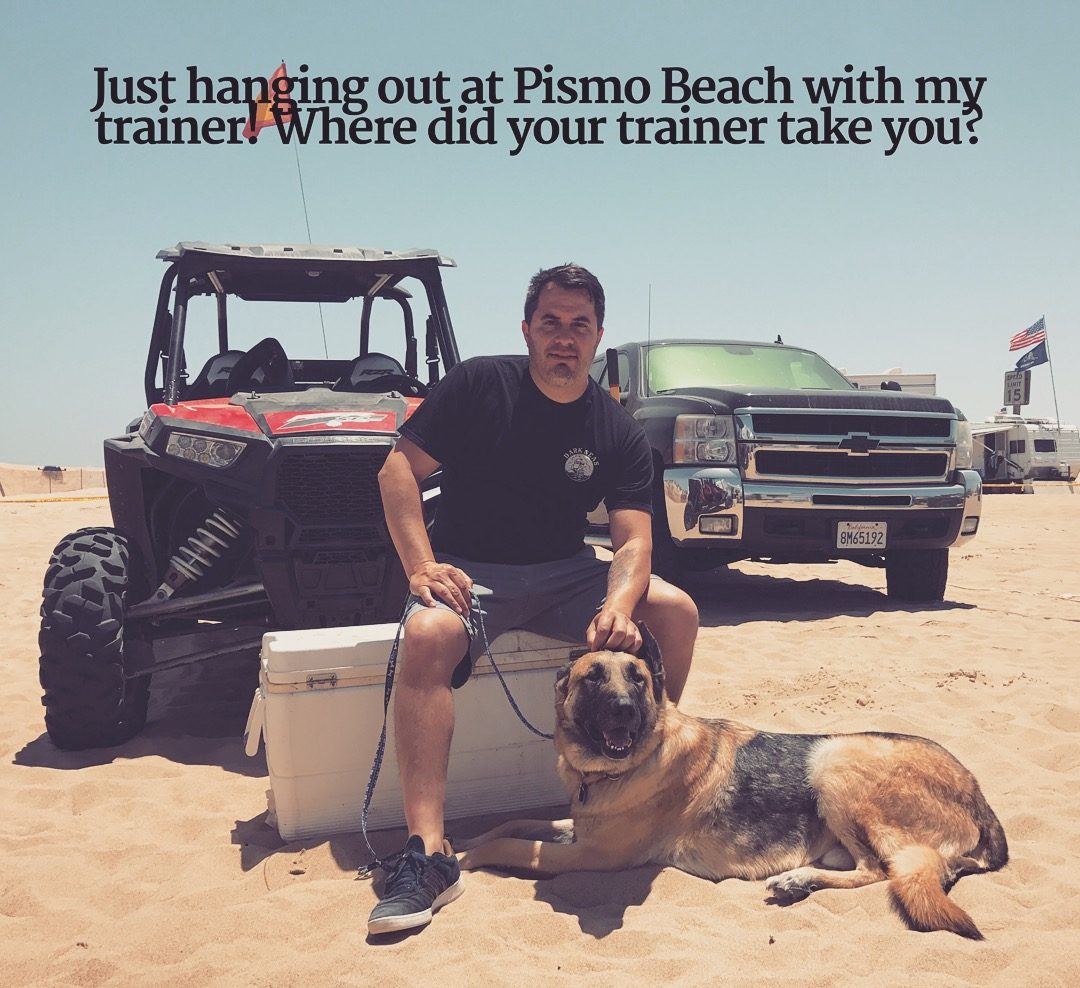 Dog training has been my love, my passion, and my life, for over 24 years; through blood sweat and tears. I will not candy coat the reality of your situation; call me if you want to hear facts and solutions! We absolutely use corrective collars, and we absolutely save dog's lives! If you are not comfortable with fair but firm corrections, then we are not the right trainers for you. If you'd like to have a dog that you can take his leash off in public, and do a lot of fun and cool things with, then give us a call and let's get started. We look forward to speaking with you soon! -Jeremy Talamantes
Jeremy's dog training resume is extensive, impressive, and continues to grow, even after 25 years of professional training! Jeremy has proven himself as a trendsetter and an innovator in the world of dog training since 1995. Very few, if any, have accomplished what Jeremy has accomplished. To work with Jeremy, is to know that you are working with a highly committed, knowledgeable, and successful dog trainer.

Jeremy started K-9 Behavior Services in Huntington Beach in 1995. After working on construction sites since he was 12 years old, and then suffering a workplace injury, Jeremy knew it was time to take his passion for training dogs and turn it into his livelihood. Jeremy was 25 years old and knew that his calling for training dogs could not be ignored. Although at that time being a dog trainer was not a common profession like it is today, Jeremy carved a path for the next generations of dog trainers. 
Jeremy started K-9 Behavior Services as a one man dog training company in 1995, and built it to a multi-trainer dog training company on a 1,545 acre training ranch in 2010. Jeremy has trained many trainers that have gone on to own their own successful dog training companies. Jeremy also currently runs a successful school for dog trainers, a dog trainer school for people that want to break into the dog training business. In his school, Jeremy teaches people how to make a name for themselves, instead of buying into and building a franchise's name. 
Jeremy's fascination and love for German Shepherds, as a child, led him into the fascinating world of protection dogs. Jeremy started training for Schutzhund in the late 90's and titled a couple German Shepherd dogs. Jeremy soon discovered the very challenging ringsports, and was hooked for many years. Jeremy went on to become a member of NARA (North American Ring Association), a member of USMRA (United States Mondioring Association), a certified French Ring decoy, a board member of NARA, and started his own French Ring club. Jeremy used all of his knowledge to procure and sell some of the best, and most expensive, protection dogs in the world.  
Jeremy started training service dogs in 2000. The first dog he trained was a German Shepherd and Collie mix that he trained for a woman with Multiple Sclerosis. Jeremy has always been fascinated with the complexity and challenging aspects of training service dogs. Jeremy is widely known as an expert in training service dogs for people with disabilities, such as Multiple Sclerosis, Muscular Dystrophy, Paraplegics, Stroke Victims, PTSD, Juvenile Rheumatoid Arthritis, and children and young adults with Autism. Jeremy typically rescues dogs from shelters, and trains them to be service dogs. 
Jeremy has acquired one of the most impressive celebrity dog trainer client lists in the world, including Hollywood's elite movie stars, rock stars, iconic rappers, sports figures, reality TV stars, MMA legends, world renowned artists, and billionaires, such as Charlie Sheen, Eddie Murphy, Ben Affleck, Jennifer Garner, Nicole Richie, Cameron Diaz, Rockmond Dunbar, Nikki Reed, Dolly Martin, Dr. Dre, Joel Madden, Benji Madden, Brent Smith, Pete Wentz, Joe Trohman, John Feldman, Yasiel Puig, Trevor Ariza, Brad Beal, Bode Miller, Morgan Beck, Kamiah Adams, Bill Rancic, Giuliana Rancic, Bas Rutten, Wes Lang, Bruce Kovner, and appeared on top music videos and TV shows such as Capital Cities (Safe & Sound), The Doctors, Storage Wars, TMZ, Monster Men, Giuliana & Bill, Animal Planet, KCAL 9 local news, and many more. 
In 2016, Jeremy closed down the 1,545 acre training ranch and downsized. In an effort to focus once again on the dog training aspect of the business, Jeremy has spent the last few years rebuilding and restructuring the company. In 2016, Jeremy also launched his school for dog trainers, 'K-9 Behavior Services School For Dog Trainers.' The school has already turned out multiple successful dog trainers that are making over $100k in their first year of business. Jeremy greatly looks forward to the next few years, as he is currently tirelessly working on a spectacular new project. Jeremy currently only takes a couple clients at a time. If you wish to work with Jeremy, feel free to contact him and see if he is the right trainer for you and your dog.
-K-9 Behavior Services- Owner since 1995
-K-9 Assistance Services 501(c)3- President & Founder- A nonprofit organization that takes service dogs from shelters and trains them to be service dogs for people with disabilities. (2003 – 2016)
-K-9 Behavior Services School For Dog Trainers- Launched in 2016
-Multiple Plaques and Awards from the State Of California
-Multiple K-9 Handler seminars for the California Department of Corrections and Rehabilitation 
-Seminar for LAX Police as authority on service dogs
-Seminars for National Multiple Sclerosis Society study groups
-Referred nationwide by Autism Speaks
-Referred by the National Multiple Sclerosis Society
-Board of Directors for the North American Ring Association (2009 – 2010)
-North America Ring Association member in good standing (2005 – 2015)
-Member in good standing of Southern California Malinois Ringsport Club (2004 – 2009)
-Certified NARA French Ring Decoy (2006 – 2016)
-Decoyed numerous NARA sanctioned French Ring Trials with excellent reviews.
-President & Founder of Los Angeles Ringsport Club (2010 – 2016)
-Du Chenil de Loucyn, Malinois breeding program for law enforcement and sport dogs- Vice President- Trainer- Training Decoy (2010 – 2016)
-Ran the largest working K-9 training ranch in the United States on 1,545 acres, in Ventura County, CA. (2010 – 2016)
-TV Appearance on 'The Doctors', as authority on dog attacks.
-TV Appearance on 'Storage Wars', as authority on protection dogs.
-TV Appearance on 'TMZ', as authority on celebrity dog trainers.
-Filmed promotional video with Charlie Sheen for dog attack with millions of views.
-Filmed music video with 'Capital Cities' for original 'Safe and Sound' video.
-TV Appearance on 'Giuliana & Bill', as the authority on protection dogs.
-TV Appearance on 'KCAL 9', as authority on dog attacks.
-TV Appearance on 'Animal Planet' for dog 
Seminars, Demo's, Competitions
-Seminar for the California Department of Corrections K-9 handler teams, K-9 Behavior Services' ranch, May 2011
-K-9 Behavior Services appears on 'The Doctors' TV program. Authority on dog aggression, Los Angeles, CA October, 2010
-Competition Decoy- NARA French Ring Trial, Hosted by Extreme Ring Dogs, Valley Center, CA, September 2010
-Competition Decoy- NARA French Ring Trial, Hosted by Extreme Ring Dogs, Aguanga, CA, April 2010
-Competition Decoy- NARA French Ring Trial, Hosted by the Arizona Bite Club, Glendale, Arizona, March 2010
-SoCalMal: Host Club For The NARA French Ring Championships, Banning, CA, November 2009
-Competition Decoy- NARA French Ring Trial, Hosted by The Bay Area Ring Club, Ryde, California, September 2009
-Competition Decoy- NARA French Ring Trial, Hosted by NorthWest Suitmen, Seabeck, Washington, July 2009
-Orange County Animal Care Services- French Ring Demo, OC Pet Fair 2009
-Orange County Animal Control – Bite Prevention training for Officers 2008
-T.U.R.D. (Training the Untrainable Rescue Dog) Seminar held at Pussy & Pooch- Two day seminar 2008
-Sepulveda Basin Off Leash Dog Park- Obedience, Service Dog demos 2008
-Orange County Animal Care Services – French Ring Demo, OC Pet Fair 2008
-Best Friend's Animal Society- Obedience, Service Dogs demos 2008
-Orange County Animal Care Services – Bite Prevention training for Explorer Program 2008
-Best Friend's Animal Society- Obedience, Service Dogs demos 2007
-Best Friend's Animal Society- Obedience, Service Dogs demos 2006
-Sepulveda Basin Off Leash Dog Park- Obedience, demo 2005
-Monrovia, CA Pet Fair- French Ring Demo 2005
-Monrovia, CA Elk's Club- Service Dog Demo 2005
-Best Friend's Animal Society- Obedience, Service Dogs demos 2005
-Sepulveda Basin Off Leash Dog Park- Obedience, Search and Rescue demos 2004
-I Love Dogs Expo- Obedience, Service Dog Demo 2003
-San Bernardino Dog Rescue Event- Bite Demo 2002