Dixie is a sweet Cattle Dog that came to us from Hollywood for our dog aggression boot camp program. She exhibited a lot of territorial aggression around her house towards strangers.
about this HOLLYWOOD dog training boot camp client
Dixie is a loveable Australian Cattle Dog from Hollywood, in Los Angeles, California, 90028. She came to us for our dog aggression training program. Dixie is a nice, loving dog with her owners, but when people walk by their house, with or without dogs, she let them know it was her territory. She would follow the people along the fence line, barking and growling until they were out of sight. Dixie also has two other dogs living at home with her, a full grown Akita named Lola, and her full grown son Domino. Dixie was injured by Lola at a young age, which could be a factor in why she's so aggressive. When Dixie arrived at K-9 Behavior Services, she would try to nip fingers and was very hard to get on a leash. She also would try to fight other dogs in neighboring kennels. We taught Dixie that trying to nip fingers and bite hands in not acceptable, and now she lets us leash her up, pet her, all the things you can do with a non-aggressive dog.
Dog aggression training is a very popular training program throughout the Los Angeles, Orange County, and Ventura County areas.
Dixie is nearly finished with the dog aggression training program, and we're confident she will make her owners proud with her newly acquired manners. The two Akitas back at the owners house also came to us for training prior to Dixie, and both Domino and Lola were sent home well behaved and ready to show off their training. Soon, Dixie will be back at home with them, and all three dogs will be well mannered and easier to manage.
Dixie got the training she needed, and the training it would require to have three dogs under one roof. Having two big dogs trained and well behaved, and then having the third smaller dog still acting up, would be difficult to deal with on a daily basis, and throw off the balance of the training the first two dogs received. Now their owners will be able to walk all three dogs through the streets of Hollywood with much less trouble, and they will finally be able to enjoy some well deserved peace and quiet.
This dog aggression training program is offered in other cities such as Las Vegas, Henderson, Boulder City, Miami, Palm Beach, Broward, Miami Dade, Boca Raton, Sacramento, the Bay Area, and San Francisco.
dixie's hollywood dog training temperament evaluation
This evaluation was given to Dixie when she first came into training. Although we always guarantee we can train people's dogs, we cannot guarantee that the owners are going to follow through with the training and continue to build on the training we have provided. If you really want to be successful with your dog, it is imperative that you follow all of the instruction that your trainer gives you!
General hollywood dog training information
We love to share the accomplishments of our hard work in dog training, whether it be obedience dog training, dog aggression training, or dog boot camp training in Hollywood, Beverly Hills, Hollywood hills, Bel Air, West Hollywood, or one of the many qualified dog trainers we recommend throughout the United States. We are adding some of our cases below for you to read and possibly connect with. We are also going to archive a list to the left that you can click on for more information and more reading. We hope you enjoy reading about our past clients. Feel free to contact us if you have any dog training questions or would like to get your dog started. Thank you and we look forward to speaking to you!
Hollywood Doggy Boot Camp Obedience Commands:
The standard basic dog training obedience commands to be taught will be as follows, all commands will be worked under heavy distractions, success of all programs is based on the client's ability and willingness to follow the program…
~ Sit
~ Down
~ Come Here (Recall)
~ Boundaries (No bolting in or out of doors and gates)
~ Heel (Walking nicely on a leash)
~ Place (Go to bed, lay down, and stay, until released)
~ No (Discipline for all undesired behaviors, such as jumping on people, barking excessively, digging, chewing, etc.)
~ Potty training (A foundation will be set, you must continue the potty training at home to be successful!)
~ Any additional commands can be discussed and incorporated, depending on the client's expectation. An additional fee may be added.
Our Hollywood Dog Training Methods Have Been Proven For Many Years.
K-9 Behavior Services is one of the most well respected and successful dog training companies in America. All of the trainers have been trained by Jeremy Talamantes. The company has established it's name and reputation on the success they have had with their clients. Their stellar reputation can be seen all over television, newsprint, the news, and the internet, including videos with Charlie Sheen, television appearances with The Doctors, Storage Wars, Giuliana & Bill, and TMZ Live with Harvey Levin, youtube.com videos with the California Department of Corrections & Rehabilitation, articles in the San Gabriel Valley Tribune, articles in the Ventura County Star, on K-CAL 9 as the authority on pit bulls and dog aggression, on Channel 5 as the authority on service dog training, and much more.
Los Angeles is one of the toughest cities to be successful in dog training because of the fierce competition that surrounds the dog training world. Many trainers flock to Los Angeles to break into the business because of the opportunity to establish themselves among the best. However, K-9 Behavior Services has proven themselves to be the company to challenge and the company to beat. Nevertheless, the company has proven time after time that they are the leaders in the industry. From running the largest working K-9 training ranch in America, to television appearances as the authority on dog training, protection dogs, services dogs, and dog aggression, K-9 Behavior Services stands alone on a level of success that no others have ever reached, but many endeavor to reach.
All of the trainers that are referred by K-9 Behavior Services have been review, researched, interviewed, and asked a myriad of questions and filled out forms to make sure only the best are being referred. Even though the company refers the best, it is always recommended to do your due diligence to ensure you are 100% comfortable with who is training your dog.
Los Angeles doggy boot camp trainer Jeremy Talamantes offers dog training in Los Angeles, Beverly Hills, Bel Air, Venice, Culver City, Burbank, Glendale, Pasadena, Ventura and Orange County, Including, dog training in Valencia, Stevenson Ranch, Oxnard, Simi Valley, dog training in Camarillo, Coto De Caza, dog training in Moorpark, Malibu, and beyond.
Dog aggression training in Orange County and South Orange County, including, Irvine, Orange, Long Beach, Anaheim, Santa Ana, Costa Mesa, Rancho Palos Verdes, Huntington Beach, Lake Forest, Manhattan Beach, San Clemente, Dana Point, San Juan Capistrano, Laguna Beach, Laguna Niguel, Aliso Viejo, and Mission Viejo
Doggy Boot Camp Is Now Also Offerred In Sacramento, San Francisco Bay Area, Stockton, Modesto, And San Jose Area, Folsom, El Dorado, Orangevale, Fair Oaks, Roseville, Rocklin, Loomis, Carmichael, and Citrus Heights, Miami, Florida, Miami-Dade County, Broward County, Palm Beach County.
There are a lot of unqualified and wannabe dog trainers out there creating franchises that offer poor dog training. Take a look at trainer's credentials, experience, and references. Talk to past and current clients. Ask a lot of questions. A good dog trainer in the Los Angeles or Ventura area should be willing to take some time with you and make you feel comfortable with him prior to you dropping your hard earned money. Feel free to call us and ask any questions you might have. Thank you.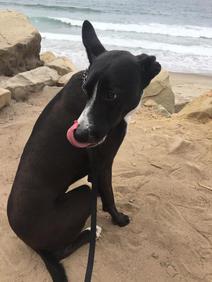 Hi, my name is Charlie!
Meet Charlie, from Camarillo, CA 93010, a Labrador Retriever German Shepherd mix, who came into training as a dog aggression boot camp case. Charlie came in for our kennel free 10 to 14 day training course. When she was picked up, she was on her rear legs and lunging to attack the trainer, Jeremy Talamantes! Charlie stayed with Jeremy and was trained most of every day of the dog aggression boot camp training course. Charlie is currently doing very well and is able to walk calmly and greet new people and dogs!