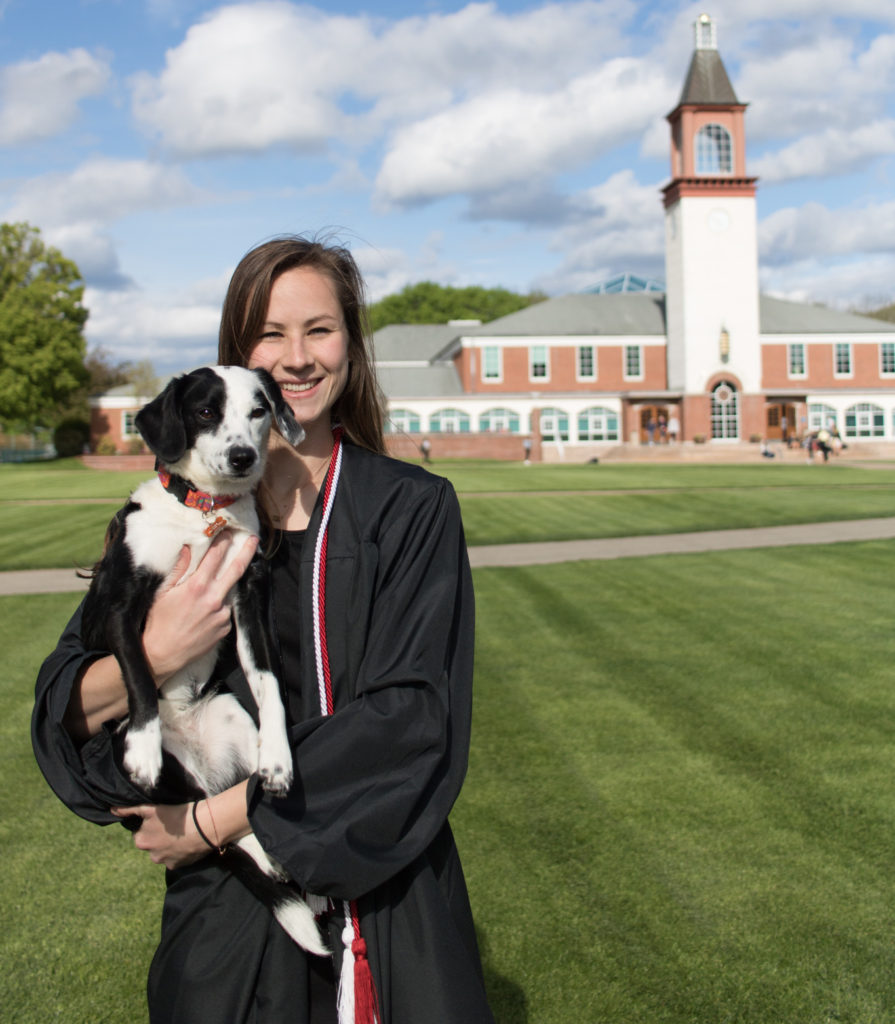 I have always thought that I understood dogs much better than I understood people. With every dog I meet, I take the time to learn their personality and understand their behavior. I'm so excited to meet your dog and work with them one on one to have them listen to and connect with their owner to the best of their ability. -Brenna LeBrun
Brenna's Dog Training History
Brenna LeBrun has been an animal lover since birth, born and raised in Bridgewater MA. Starting at age 13, she was a volunteer at the Animal Protection Center of Southern Massachusetts. When she was 14, her parents decided she was old enough and responsible enough to get a family dog, which she helped train. 


At 16 Brenna started working at JM Pet Resort and Brockton Blue Dog Shelter in Brockton, MA. While there, she was moved up to the Kennel Manager position within a year. She prepared the food and fed all the dogs, administered medications and cleaned the facility. She was also a group attendant; standing in the yard and monitoring groups of 30-40 dogs at a time.


Then in 2015, Brenna transitioned to working at Performance Plus K9 Activity Center in Raynham, MA as a kennel worker and group attendant for 15-20 dogs at a time. This facility is where she fell in love with dog training. Taking classes such as obedience, agility and nose work. She then decided to get her own dog to train and raise as her own.


In 2016, while studying at Quinnipiac University, Brenna started working at The Barking Lot in Hamden, CT as a kennel worker and group attendant for 40-50 dogs at a time. Here is where she really started to study the behavior and personalities of many different dog breeds. 


Then, in 2018 Brenna moved to LA to start her life after college. Using her film degree, she worked many freelance jobs and studio jobs, while still working part time at Hounds of the Hills in Hollywood, and The K9 Loft in Sherman Oaks as a kennel manager and group attendant.


In 2019 she finally realized that her true passion was working with dogs and that she wanted to make a career out of it. She quit the entertainment industry and started training with renowned dog trainer Jeremy Talamantes, owner of K9 Behavior Services, to become an obedience and service dog trainer. Brenna is based in LA and available to take on dog clients in the surrounding area.


Brenna only takes on a couple dogs at a time, to make sure that she can give each dog the time, attention, and training that they need. Feel free to contact us today to ask any questions you might have. (818) 216-8960
About Brenna's Dog Training
Brenna has a strong connection to, and a deep love for dogs. Her love for dogs, and her passion for training, has led her to dedicating her life to training dogs, and helping people establish the right relationship with them. Brenna has proven from a young age, that she is completely committed to working with dogs. 
Not only does Brenna already have 12 years of training experience with dogs, she is now fully committed to learning more complex aspects of dog training, such as dog aggression and service dog training. Brenna's commitment and dedication is already leading her into a much more dynamic world of balanced dog training. 
Brenna is currently specializing in basic obedience training, off leash obedience training, behavior modification, dog aggression, eCollar training, and service dog training. Brenna only takes a couple dogs on at a time, to make sure that she can spend enough time every day with each dog. Brenna's boot camp program is only 10 to 14 days. She is able to get the job done quickly because she only takes a couple dogs. 
Brenna's Dog Training Courses
Brenna offers a doggy boot camp program that is only about 10 – 14 days. In this course, your dog will stay with Brenna and spend the entire day with her. Brenna does not use any kennels, nor does she have a bunch of barking dogs. Her training environment is calm, quiet, and the optimum learning environment for your naughty little pooch. 
If your puppy is too young, or you just want to be more a part of the training process, Brenna also offers private training in your home. In this program, Brenna will come to your home for eight sessions, each session is about an hour. Brenna will do hands-on training with your pup, and then walk you through hands-on training with your pup. You will need to work your dog every day in between the weekly sessions.
Brenna's specialty is service dog training. Brenna has been studying and perfecting this art for many years. Brenna has also been working directly with Jeremy Talamantes, learning many different aspects of service dog training. Brenna specializes in service dog training for Multiple Sclerosis, Muscular Dystrophy, PTSD, brain injuries, paraplegics/quadriplegics, individuals in wheel chairs, and Autism.